FREQUENTLY ASKED QUESTIONS
Get answers to the questions most frequently asked about running the WuYi Trail Race.
Official Wuyi Trail Race registration is open, you can register here, on our website. Entry fees will increase as the race date gets closer, so register now before prices go up.
WHEN IS THE DEADLINE?
Registration closes on September 30th, 1-month before the race to allow time for event planning and logistics. Register now to guarantee your spot.
RACE DATE & SCHEDULE
OCTOBER 30TH (FRIDAY)
Venue: China Wuyi Tea History Museum (Impression Dahongpao)
09:00-23:00 RACE PACK DISTRIBUTION
OCTOBER 31ST (SATURDAY)
Venue: China Wuyi Tea History Museum (Impression Dahongpao)
04:30 Opening Ceremony
05:00 100km Start
07:00 60km Start
07:30 35km Start
21:30 Closing of 35km Finish
NOVEMBER 1ST (SUNDAY)
Venue: China Wuyi Tea History Museum (Impression Dahongpao)
01:00 Closing of 60km Finish
11:00 Closing of 100km Finish
*Final start times subject to change on race day.
What's included?
Race entry includes:
Run 35K, 60K, or 100K course.
Finisher medal
Official race shirt
Bib number
Timing chip
Goodie bag
Bag tag(sticker)
Runners handbook
Survival blanket
Volunteer support
Checkpoint Stations
Medical first-aid
Finish line food & water
Event Insurance
A bucket list race experience!
FINISHER AWARDS
All finishers will receive an official finisher medal.
100km/60km finishers will receive a prize finisher vest and cap.
Finisher Certificates will be available for download and print from the race official website a few days after the race.
It is important that all participants follow the race rules and regulations, please review the Regulations Page for details.
RACE LOCATION?
The Wuyi Trail Race is located in Wuyishan City in the Fujian province of southeastern China. The race check-in, starting point, and finish is located at the Wuyi Tea History Museum (Impression Dahongpao), which can be reached by foot or by taxi.
HOW TO GET THERE?
Participants will need to get to Wuyishan City and to Mt. Wuyi via high-speed trains or planes.
BY PLANE
Participants flying in will need to arrive at Wuyishan Airport (WUS), from this there you can take a taxi ride to hotels and the Mt. Wuyi Scenic Area and Wuyi Tea History Museum (Impression Dahongpao) for the race. However, Wuyishan Airport is not an international airport, participants traveling fro abroad will need to transfer from an International airport in China. More than 30 Chinese cities, including Beijing, Shanghai, Guangzhou, Hong Kong, Macao, Shenzhen, and Xiamen, have direct flights to Wuyishan Airport.
BY TRAIN
There are two high-speed train stations at Wuyishan City. It takes about three hours from Xiamen, Fuzhou or Shanghai to Mt. Wuyi and Wuyishan City via high-speed trains.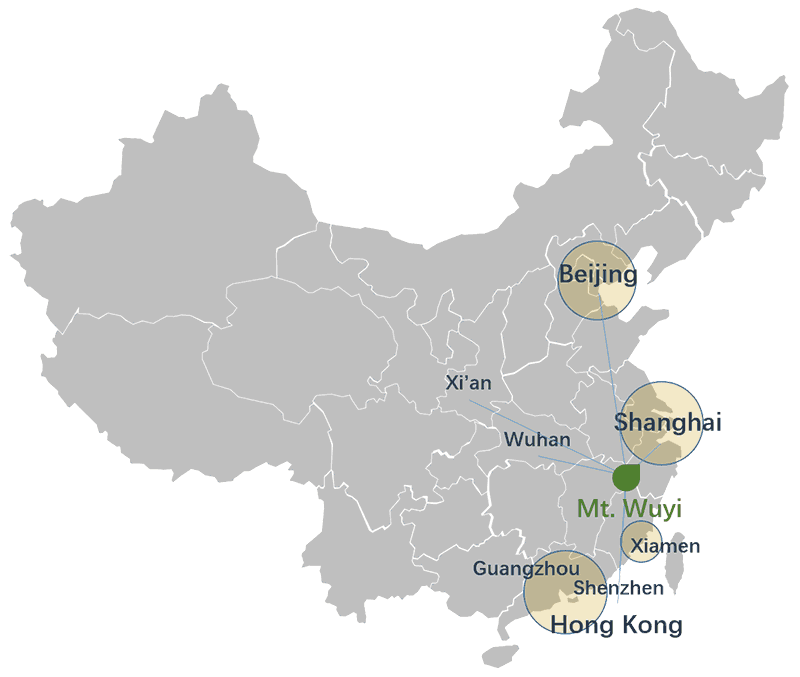 TRAVEL REQUIREMENT
Due to the recent coronavirus pandemic, all foreigners traveling to China must have a valid China travel visa and doctors notice showing proof of COVID-19 testing with negative results to enter the country. Check the China embassy and travel requirements in advance.
CHINA VISA
A China travel visa is required for foreigners to enter the country. We recommend you apply for a visa as soon as you have your flight itinerary. It is best to apply early rather than risk missing out. When applying to be sure to provide in advance your flight itinerary.
Almost all non-Chinese nationals will need a visa to enter China. There are different visa categories and you will most likely need a tourist visa (L). Please contact your local Chinese embassy or consulate for more information. The procedure normally requires submitting a visa application form, paying a fee and providing the Chinese authorities with an authorized flight itinerary from your travel agent. This process takes about one to two weeks. Note that your passport must be valid for at least six months after entry. For more information please visit the Chinese Embassy website.
WHERE TO STAY?
Wuyishan City features several hotels that are near the Wuyi Trail Race start and finish line. Simply search your favorite booking agency for hotels in Wuyishan City near Mount Wuyi. Hotel rooms do sell out in advance, we recommend booking your hotel right after you register.
HOWS THE WEATHER?
Average weather in Wuyishan in early November is 22°/12° C or 71°/53° F, with about 15% chance of precipitation. Temperatures will drop as elevation increases into the Wuyi Mountains, prepare for a 5-15° variance. Most of the time it is clear and sunny weather for race day, however, we recommend checking local weather forecasts as race day approaches and planning accordingly.
ENTRY TRANSFERS
Entries are NON-TRANSFERABLE. Sorry, no exceptions. Due to the insurance requirements for each individual, no transfers are allowed for this event.  If it is discovered that your entry has been transferred, the qualification of both the transferor and transferee will be canceled.
The deadline to cancel an entry is July 31, 2020, 50% of fees will be refunded to anyone that submits a cancellation request before this deadline. After August 1, 2020, no refunds are available. Sorry, no exceptions. Due to race logistics and planning, you will not receive a refund if you cannot participate. Please submit a cancellation request from the contact page.
Can't find the answer to your question? Please contact us with your questions and we will get back to you as soon as we can.
DISCLAIMER
Please note that event information here represents what is planned for the event. Locations, routes, hotels, schedule, adjustments, and changes may apply depending on conditions, availability, late participation entries, and improvements. The event strives to improve for the best experience.